Oh no! I am so sorry that you are dealing with a yeast rash. Anytime our baby is uncomfortable it's so hard to deal with. I find myself extremely sad anytime we need to use disposables.... I blame these amazing diapers for making me a diaper snob.
Let's see what we can do to help you ditch this rash and get your baby back to the sweet comfort and cuteness of Lil Helper fluff.
When dealing with bacterial or fungal ( yeast) infections its always safe practice to completely sanitize the diapers to ensure that we completely eradicate any and all leftover "organisms". I would also bleach soak any cloth wipes as well.
The infographic below will give a step by step process on how to properly bleach soak and care for your diapers. We suggest doing this process to
inserts only
. As mentioned above you can also throw in any cloth wipes you may have.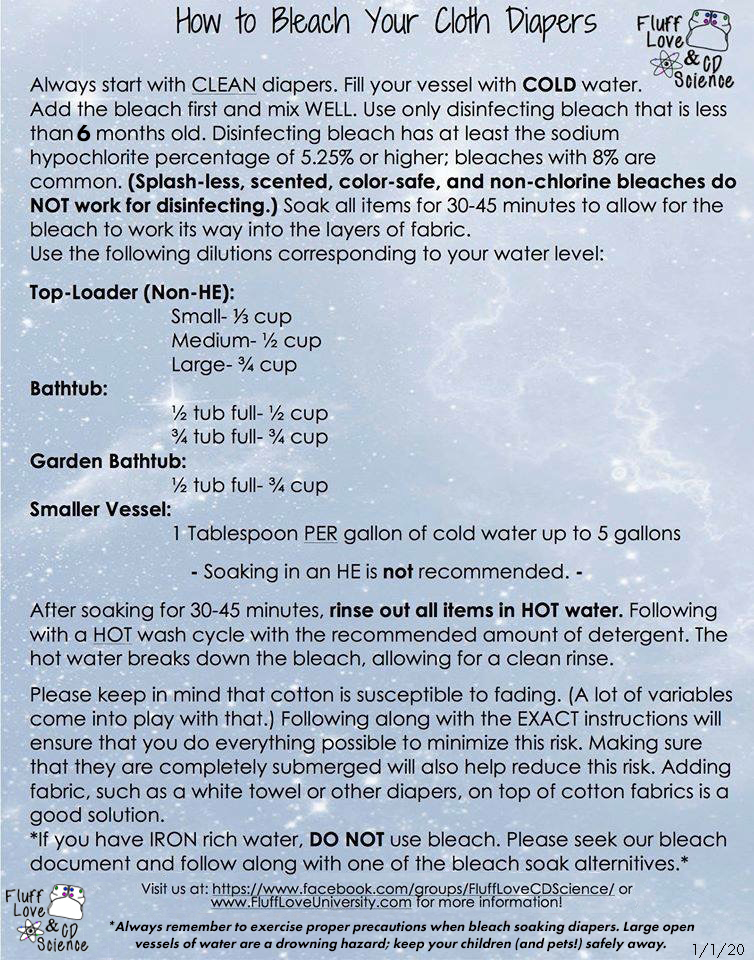 If using disposables then one good bleach wash, as noted above, will be just fine. Do not go back to cloth until the baby is 14 days free of symptoms.
If you choose to go back to cloth when the baby is symptom-free BEFORE the 14-day mark, add the recommended amount of bleach to each wash until 14 days rash-free passes.
If the directions are followed appropriately and you do not submerge your inserts for too long and using the correct amount of bleach. There should be no damage to any of the inserts!
Please feel free to reach out if you have any more questions about this process. We are dedicated to helping you get back in the cloth as quickly as easily as possible!